"I'd die if I had to wear beige all the time!"
MARI sweaters have been declared this fall's must-have in Budapest. Vibrantly colourful, joyful, and unapologetic – they are just like their designer, Annamari. Meet the designer/yoga instructor/painter/ future drummer whose worst nightmare is a wardrobe filled with grey and brown.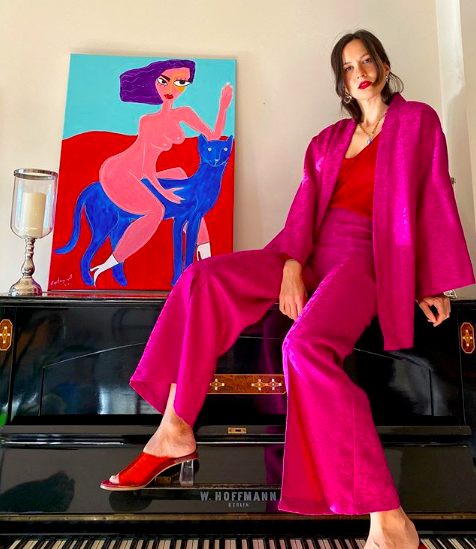 Annamari Kaptay, founder of MARI
How did you start MARI? Where did the idea come from? How is MARI different from other activewear brands?
I have been toying with the idea for a long time, but of course, we always have "more important" things to do and tend to put off the truly exciting things. I have been holding dynamic yoga classes for six years now and I've often thought about launching my own athleticwear collection; especially because I see daily how hard it is to find pieces that are both durable and "cool" (even if the activewear scene is getting better). I drew my first sketches four years ago, but it's taken me until this quarantine to actually start working on it. As for how MARI is different…
I would like to believe that I pay more attention to boldness, colours and humour than other brands. I think it's devastating to live your whole life in clothes that are brown and grey; wearing red with purple, or even orange with pink changes your mood instantly.
Even more so, I aspire to show that you can look elegant and stylish when wearing daring colours. The name of the label aims to prove that you can still build a cool brand using only a plain Hungarian nickname. In Hungary, the name Mari immediately evokes an image of an older lady with curlers in her hair. Yet, to me, this name is filled with French elegance. Everything depends on your approach.
How does Mari contribute to sustainability? Was it an important angle for you when you founded the band?
When I founded the brand, one of my focuses was sustainability. Honestly, I am frustrated about how unjust our world is, and wanted to do my bit to help – even if it's on a small scale. Despite my best efforts to veer away from fast fashion, however, new ideas, colours, and materials are on my mind all the time.
I would be lying if I said I am over the guilty feeling that I'm not doing enough, but I came to realize that people will always have to wear clothes, one way or another. And if they choose to dress in my clothing, at least they'll be helping the planet.
Sadly, it's not possible to stop wars and dictators with my first collection, Plant A Tree, but we still aim to help the planet one tree at a time! After each purchase, we plant a tree, and customers can even find their trees, thanks to the serial numbers printed on the oversize sweaters! I am currently working on my sport and yoga- apparel collection, which is going to be made from 100% recycled materials (such as repurposed fishing nets that are littering the ocean).
For the first rounds of models, you used friends, your boyfriend, even your aunt. How did they inspire you?
People closest to me inspire me the most. I've also never found inspiration in generic beauty and youth; I find exciting personalities way more appealing – regardless of age or sex.
If someone possesses certain values – like self-confidence, and love – they radiate and their eyes sparkle, it looks best in pictures, too.
As for the men in my life, both my dad and my boyfriend are fairly atypical. They love to have their photo taken and simply cannot stop posing. I love this; they're my muses. And my aunt: it is enough to take only one look at her to know she's fantastically photogenic. And she is such a role model. Choosing to let her hair turn white naturally, she's embracing her age and growing old gracefully. Yet, thanks to her confidence and vibrancy, no one would ever call her 'elderly'. I am a true believer in wearing your clothes and your personality with pride and confidence.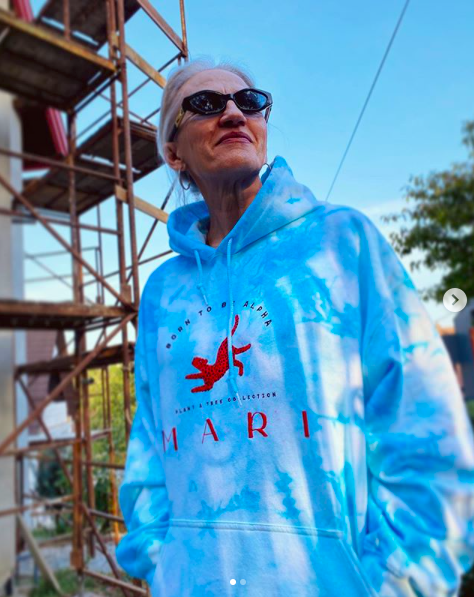 It seems like art is a very important part of your life: you design clothes, play the piano, paint and do yoga too. Do you have any other projects in mind?
In the first grade of elementary school, they asked the simple question: what do you want to be when you grow up? While the others gave similarly simple answers, I wrote: opera singer, actress, pianist, painter, dog-breeder. It is interesting how I have always drawn to art, and I could never understand how others are able to choose just one single job when there are so many wonderful professions in the world. I want to be many things, but I am also aware that maybe it is time to focus on the several projects I'm juggling already … but I have to admit, I want to do one more thing: learn how to play the drums!
You also started to sell your paintings, as 'Art from my heart'. Does art serve as therapy for you, as a kind of self-reflection? Did you have any other creative inspiration (designers, people, movies, music)?
I have always loved painting and drawing, but I never once thought about going to art school.
A while back, when I had my heart broken, I went home and painted for two days straight. It was a form of therapy for me.
Then, a complete stranger texted me about my paintings which he spotted on the background of one of my Instagram posts. Afterwards, more and more people complimented my art; I started to realize people actually liked what I did. Though I still view painting as a hobby (for now), I have a more profound relationship with my pieces than with the clothes I produce – each painting is unique and impossible to reproduce. I often paint to classical music (like Chopin, Beethoven), French songs or to Woody Allen movie soundtracks. As for design, Gucci inspires me the most (especially the more daring designs which they would never introduce to the Hungarian audience) and Miranda Makaroff, an incredible Spanish artist.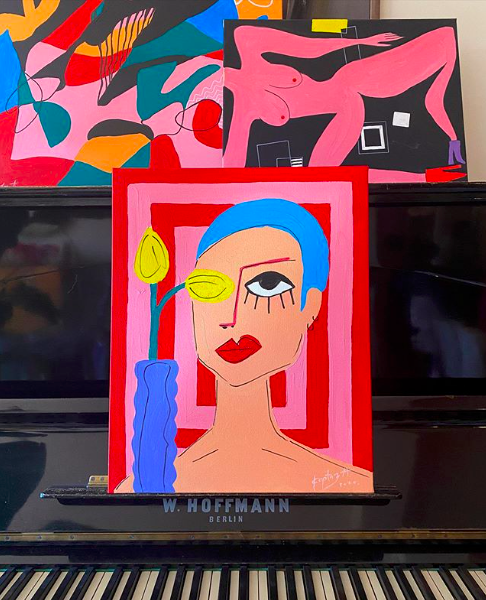 Did you have gender neutrality in mind while designing the MARI pieces? What do you think about the new wave of unisex clothes shaking up the fashion industry?
I never really got why male and female fashion are separated. My boyfriend has always been mad that I wear his clothes more than mine. Having said that, since we launched the collection, we exclusively wear our own MARI sweaters. I have to say, I really do love it when a guy orders a piece from the collection because I'm aware of how hard it is for fashion to reach men, especially colourful pieces like MARIs. There is nothing sexier than a guy who is brave and bold in his style. And I still think people look best when they are happy in their clothes. I know for sure I'd die if I had to wear nude colours all the time. The only nude I do is without clothes!
How do you think gender stereotypes limit fashion for both men and women?
From what I have experienced, the rules are becoming more flexible in fashion. There are exceptions, of course: the strict and gender-based dress codes of corporate offices still offer very little room for creativity. I won't ever understand such useless rules, or the people who make them.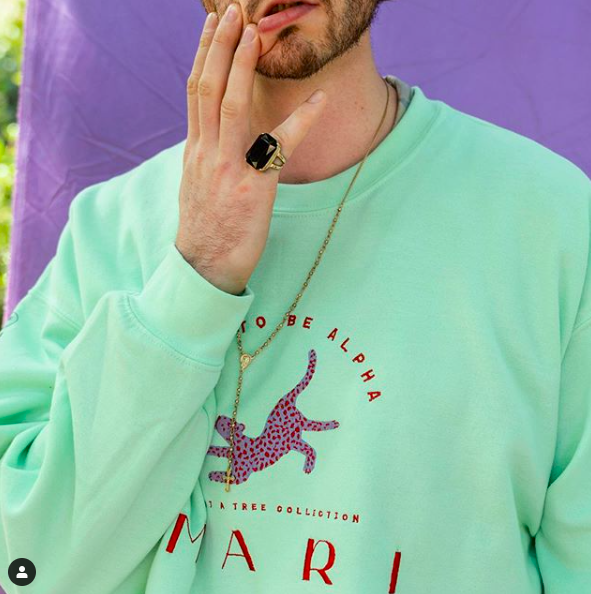 Do you think athleisure (activewear) will become a kind of uniform for the post-COVID era?
Absolutely! The transition has already begun: more and more people are starting to realize how comfortable and convenient activewear is – especially when it looks good too!
What else can we expect to see from MARI?
So first and foremost, we have just finished producing Plant A Tree pants to match the sweaters, and we have some incredible winter hats and outdoor, water-resistant overalls in the making. However, my most exciting project is going to be the biggest one yet: my first sports and yoga collection! If everything goes smoothly, by November we are going to be able to launch the activewear pieces from 100% recycled ECONYL fibres.
MARI Activewear is part of the Lazy Women Gift Guide. If you want to get an exclusive discount on MARI products, sign up to our newsletter here.

The discount codes will be available until the 24th of December. We at Lazy Women do not get a cut, a commission or any revenue from this campaign. your money goes straight to the producer and they keep 100% of it. 
Interview by Tamara Csibra-Kaizler. To check out her latest pieces, click here!