Jasmin Swan, the hottest winemaker on the block, is leading the natural Mosel Revolution.
We recommend this read with a glass of 2019 Hiltja (Cabernet Blanc/ Riesling) by Katla wines and Easy to Love by Billie Holiday (preferably on vinyl).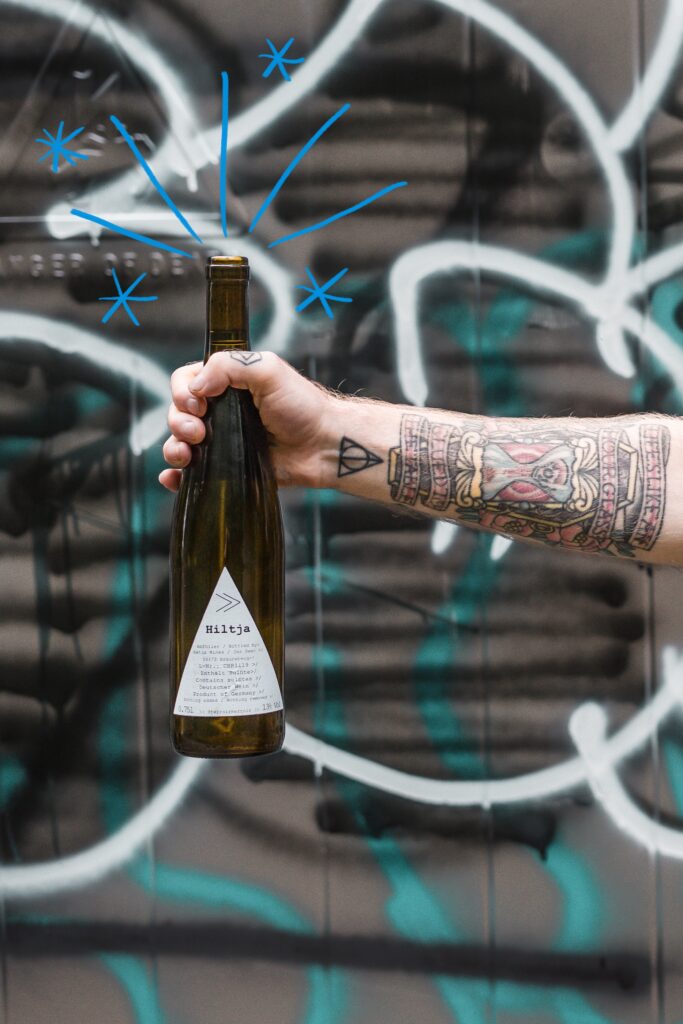 She was not born into a winemaker family, nor is she the heiress of land and great fortunes. She, however, has an energetic drive, plus the ability not just to learn, and keep learning, but to share knowledge across the board in the industry. A skillset that not many hold and very few can acquire. This, and her very obvious talent to create incredible, lively wines, puts Jas on top not just as one of the most promising winemakers in the Mosel, but as a true revolutionary of the industry. 
Centuries-old castles looking down onto the little house on the riverbank, steep hills covered with vines and dreams, and the glittering water in the sun. The Mosel Valley is one of the most beautiful wine regions you can travel to, but beauty is pain, as they often say. Being a winemaker here isn´t easy and it requires a whole lotta sweat, grit and grind. 
In a predominantly men´s world, Jasmin Swan, the freshest talent in the Mosel region of Germany, stands out tremendously.
Her micro negoce winery, Katla Wines, is ready to make its own rules, instead of following old ones in a highly traditional winemaking area of the Old-World.
I had the pleasure reflecting with Jas (she in her bathtub, surrounded by bubbles and me, in my bed, surrounded by empty Ferrero Rocher wrappers) about 2020, how the wine world has been changing, and what we can do bigger and better for the community.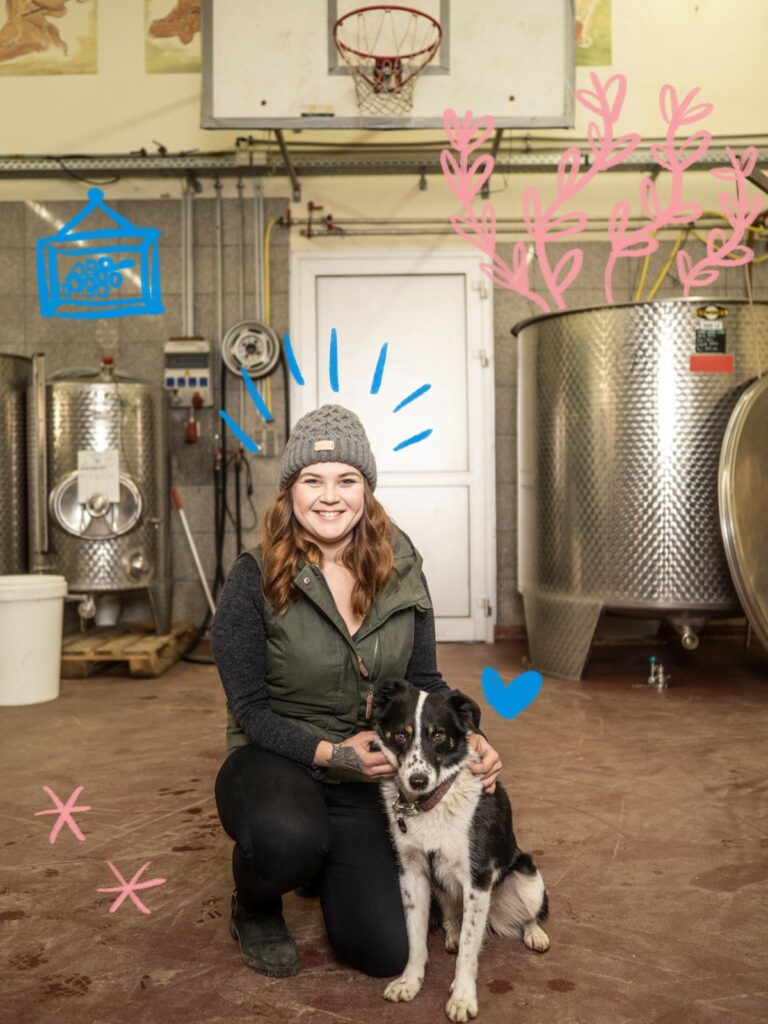 Jasmin Swan and her dog Simba, photographed by Thomas Rabsch
What is your origin story, Jas? It seems like you have been completing a full circle, moving from Germany to London, Edinburgh, Iceland, California, France and now back to Germany. 
Haha, yes, it does seem like a lot. I grew up in Germany but I have always felt like I was not fitting in (I think I am still kind of standing on the sidelines, but over the years, I have gained the self-confidence to care less about how I should be, you know?)
Years ago, I moved away after a difficult relationship and started working in hospitality in London, and Edinburgh. I loved the city, I was first in hotels, and then moved to Paul Kitching's 21212 restaurant. Following this, I was briefly involved with Smith & Gertrude*, where I have learnt some valuable things about wines and the industry.
Almost over 4 years ago, I decided to move from the UK to work at Dill, an amazing restaurant in Iceland. I am incredibly proud of my experience here, and the people I have got to work with.
I did internships with great winemakers, I got to know the wine scene in Alsace, Austria and California, and met some crazy good people with some crazy ideas during wine salons and various events in Europe.
My biggest influence to this day is Gilles Azzoni, a winemaker in Ardeche. The way he works – spirituality meets the art of not giving a fuck – it is just inspiring… Jan Matthias Klein on the other hand, the owner of Staffelter Hof has helped me so much with settling in the Mosel and is a strong supporter of what I do, I am allowed to make wine in his cellar which feels amazing. Here at the "Hof", Jan has created a very special community of like-minded people.
You have started your own winery after only a short period of internships, which is highly unusual (a lot of people spend 2-5 years interning for other estates or winemakers before taking a shot at their own project).
What made you say "fuck it – let me just do my own thing now"?
Actually, I used to own my own apartment in Edinburgh, but after the Brexit vote, I made the decision to sell it. Suddenly I had money, and I thought to myself – this is the last time I will have this kind of wealth, so why not go crazy?
This was (and still is) for sure a journey, and along the way, I met all these wonderful people. I know I would have regretted it if I didn't do it… and I did not have the knowledge at the time (and I often feel that I still don't) but somehow things always work out.
Talking about spontaneous… I wonder what natural wine is for you?
I think at the core, it is growing and making something in a "low-intervention" sense – nothing extra added or taken away.
Working minimally in the cellar, and trying to make the wine as gently as possible (no nasty business, additives and so on) is key, but I do believe that sustainability starts in the vineyard, with the grapes and the other plants, growing them organically, to say the least. In my opinion, this is the number one thing we, natural winemakers, should focus most of our energy on.
Some of the grape varieties I like to work with are the "Piwis" (they are fungi resistant hybrids) and I do believe that in terms of organic or biodynamic winemaking, they are the future (from a climate change point of view).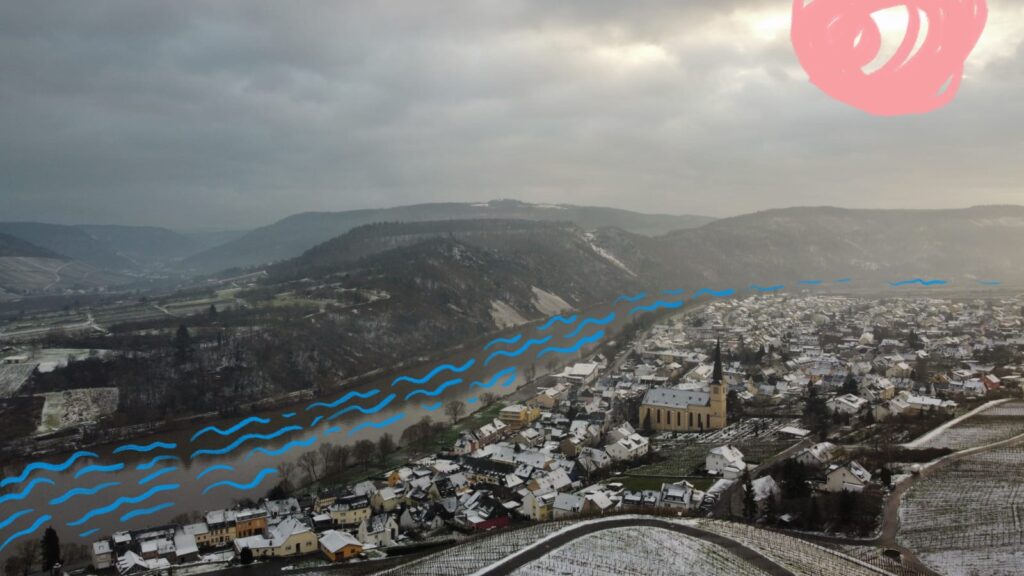 Natural wine is a more intuitive way of creating wines, and a more sustainable way of living and working. You are obviously super passionate about it, and I was so glad to attend your

Wine & Climate Change Summit

, which turned out to be an 8-hour long amazing Zoom geek out with incredible people.
What was the drive behind the event? What was the most valuable insight from the summit?
I believe that sharing knowledge is always the most valuable thing. My goal with the event was to put something with substance on the internet. Something that, hopefully, can make a difference and people think.
I travel to Iceland a lot, and you can see the glaciers melting away, but you don't have to go that far to see that the world is changing. We experience crazy extreme weather (like the fires in California, or Australia, the frost, the hail in Germany and so on) and it is very concerning, not just from a winemaker point of view, but as a human being.
The true value of the event was raising awareness and directing people's attention to a bigger issue. The market is still oblivious towards the changing climate and raising awareness about simple things like transport or even packaging can help a lot towards a better future.
We had many smaller discussions during the 8 hours and even us, winemakers, producers, importers, people in the industry have a lot of blind spots, and a long way to learn more.
It was high time to have a conversation about the ways we can deal with the climate crisis, and potentially prepare for the future, where the weather conditions will become more extreme.
I loved the whole evening and I cannot wait for the next one. Is there a way for people to watch the content?
Yes, riesling.tv was kind enough to host this on their site. You are able to watch the whole evening there.
2020 was really a shit storm of a year, to put it diplomatically. However, the community became more important than ever, you were also involved in a lot of projects, like the

Drinking Against Sinking

initiative, where winemakers sold wines to support local charities, healthcare organisations and more.
The community, yes, I love it, but it could be more diverse and a little more open towards "outsiders" you know? There are a lot of people who have fun making wines and a lot of people who have fun with the product, but oftentimes the industry can be still a little stuck up… I wish everyone could just have even more fun with it, and embrace the differences.
There is an openness towards new people for sure,  but there is also a certain amount of privilege that is involved with wine and I think we should be very aware of that, check and educate ourselves about it. 
What is it like to be a woman in this industry?
It is a difficult question. We have a super long way to go to fix the way we treat each other (as humans), there are still predatory people out there, somms who harass others, and take advantage of certain situations using their power, which is not okay.
This year had me thinking about some very important things. I realised how blessed and privileged I am.
I can't imagine what it must be like to come into the wine industry as a woman of colour, or somebody from a not-so-privileged background, and try to find their way and voice.
I just find it crucial that we check ourselves, the place where our privilege is coming from. We need to reflect, we need to learn, we need to do better and better every day, and this is a commitment. 
I couldn't agree more, we have a long way to go. I would also add that to be truly proud of each other and uplift each other as women is a big job, and I am hoping to be part of this change in 2021.
One last question: What is a wine that you discovered in 2020 and enjoyed very much?
I discovered the wines of Edouard Adam recently, visiting him was an amazing experience. His "Furie" is a long-time favourite, so light and elegant (especially so that he is working in a very hot and heavy region).
---
Interview by Rebeka Győrfi.
Find Rebeka drinking natural wine, stuffing cheese in her face or stalking cute animals on the regular. As the creator of Natúr Magazin, she hopes to spread stories about Eastern European natural winemakers, sustainable producers, small businesses, creatives and many more. Rebeka truly enjoys eye rolls (directed at snooty somms and wine nonsense), big chats about sustainability + diversity, and cool womxn-created things.
Check out the first article from the 'Of Women and Wine' series here.