Social media is king (for most of us, and for most of our days) and #FOMO is real. Luxury holidays, cool restaurants, bottles of expensive or cool wines, amazing sunset pictures have become our lives and we think that if we are not doing the trendiest thing, not wearing the best clothes and not drinking or eating the latest & greatest, we are unimportant and unworthy of life's best things. Social media makes us feel stupid and makes us become outsiders in worlds where we just came to have fun.
Have you ever felt out of place when ordering a bottle of wine? Ever felt humiliated in a restaurant where your genuine curiosity was met with (let's be honest) mansplaining and spewing wine facts like it's common knowledge? How many times did you feel awkward when people showed you interesting bottles or flaunted their knowledge about a glass?
Well, wine does not have to be this way.
Wine is about people, connection, laughing…It's not the drink itself that provides the whole experience. It is everything else around it, and most importantly the people you share it with. And this is the kind of magic of wine Whitney Pope wants to unveil to the curious learner.
Whitney, with her marketing & event management know-how and her passion for natural wine, is here to change the way we educate people and the way we communicate when it comes to wine. Her social media channels and blog (all running under WHIT & WINE) are aimed to create an inclusive space, where wine enthusiasts can come to learn.
Never tried natural wine in your life? WHIT & WINE is probably the place to be!
Whitney Pope. Doodles by Lili Rebeka Tóth.
Tell us your origin story and the start of your "relationship" with wines.
I got into the industry over 10 years ago, while I was working in digital marketing for fashion brands. I was talking with my roommate and we made a shortlist of things that we loved and were interested in, and wine was on the top of it.
I hadn't been bitten by the wine bug at that point. had a nice aha moment of saying, "Oh, this is what a hundred dollar bottle of wine tastes like" and how different it was from the cheap $8 bottles of wine that I typically was drinking.
So I started wondering – why is it different? From that point, I was trying to take advantage of all the tastings around New York City, where I was living at the time, and reading as many wine books as I could find at the library. Slowly but surely, I started to trade up from $8 bottles of wine and getting into the nitty-gritty of what makes why so unique.
Through a friend, I landed a part-time job working wine events at an Italian wine shop while still holding down my corporate job. Being exposed to one region was really cool to start in the business because you can just hone in to focus and learn a lot!
In 2012, I had the opportunity to be a teacher's assistant for the International Culinary Center's Sommelier Intensive program. Honestly, I went from zero to sixty in terms of my wine knowledge. In four months, we covered the major wine regions, varietals, standards of service, the basics of food and wine pairings. The classes were taught by four Master Sommeliers and at the end of the course, I earned my level two sommelier award from the Court of Masters.
And this past year, with the start of the pandemic, I was out of a job and I was wondering what am I going to do for the next six months?
So I decided to create my WHIT & WINE account and just talk to people about natural wine.
Only a few people start their wine journey with natural ones specifically…
I've never been an advocate for buying wine at the grocery store because I believe in shopping small and supporting your local wine shop.
Big wineries were never my thing, and I really did not realize that I was drinking natural wine until 2013, when someone said to me, "You realize that the wines you love are natural, right?" I had no idea there was a difference, I just thought I was simply into good wines from small producers from around the world. But I started to realize that there's a whole history and culture around natural wines themselves. I came into it very unknowingly and have been incredibly grateful to the community that's emerged from social media, especially in the last year, since we're all home and just drinking wine.
Especially with a new generation growing up, education has taken a different turn, and a whole new wave of people emerged who consume wine and want to learn about it in a different way.
Just looking at human behavior in the last year, with everyone being home, has really forced people to think through where our food comes from. More folks are starting to think about where their food is sourced from, how it is made if it is good for the environment). When you question how your food is sourced and produced, this naturally extends itself to wine – which is why people will choose to drink natural wine.  And I think that it's a totally fair argument, right?

Then layer in the social justice movement that exploded in May and June 2020, globally, but predominantly here in the US. People became more conscious about how you can use your wallet as an act of 'voting with your dollar" to support businesses that align with your personal values/views about climate change, social justice, etc…
So naturally, people want to learn about wine because it's fun. For those looking for formal wine education, there's the Wine & Spirits Educational Trust which is one of many programs available to consumers. A population that got interested and is now ready to learn, taste, and enjoy wine. 
This does not mean that everyone should go a formal route to learn about wine nor should they feel like they need to have the same level of knowledge. I think social media has democratized learning about wine. It's made it accessible and engaging for a whole new audience of wine drinkers. Which is why I started making Wine Reels on Instagram, they are a fun approach to wine, for everybody, everywhere.
Your approach to wine is amazing – the

videos

make wine, especially natural wine as fun and approachable as possible is certainly something that people can align with.
What was your goal with the reels, the fun videos?
It is my passion project and when I started it I looked at Instagram, and other social media and I was just seeing the same type of photos and videos. Often it came across as the "cool kids" posting "look at this sick bottle of *insert any popular natural winemaker here*". There's definitely this hype beast culture surrounding natural wine. On the flip side, there were a ton of highly stylized photos of someone posting with their wine glass or bottle. Nothing is wrong with either direction and serves its purpose but for me, it didn't feel like I fit in either of those camps.
So I decided that it is going to be just me, putting myself out there (which I am still not comfortable with). But I figured – if I love natural wines, I am passionate about it and have good base-level knowledge about wine, I can do this in a way that feels authentic to me. So I took my experience in marketing and branding and used it to create fun content that breaks down difficult concepts into fun and digestible bites.
I wanted to be your best girlfriend, with who you can talk about natural wines.
Once you get people hooked into understanding why wine and natural wine is great, they will realise that buying a bottle has an impact. Supporting a smaller producer versus a big brand or how their purchase impacts the environment in one way or another.
I am very much aligned with what you said about having people understand what's behind the bottle. And who is behind the bottle! What do you think about that?
I believe wine is an agricultural product and it kind of goes back to my earlier point with folks being at home. They're starting to make that connection about people behind the wine and that wine isn't just fermented grape juice. That is the key differentiator because once you understand and think about wine that way, you realize that far more goes into creating a bottle of it.
I recently just had a conversation with someone about labor and wine. The natural wine community has to play a huge part in it, especially people who work in wine communication, and people who connect producers, and I recently just had a conversation with someone about labor and wine. The natural wine community must play a part in it, especially people who work in wine communication, and people who connect producers and consumers. We must ask – what about those bodies that are working the land and harvesting the grapes? How do you take care of your vineyard staff? What are you doing to support the workers and their community from being exploited? We often forget that farm workers and migrant workers are vulnerable and can easily be taken advantage of because they are "unseen". 
Drinking wine is a choice, and you make a choice with your dollar each time you spend it.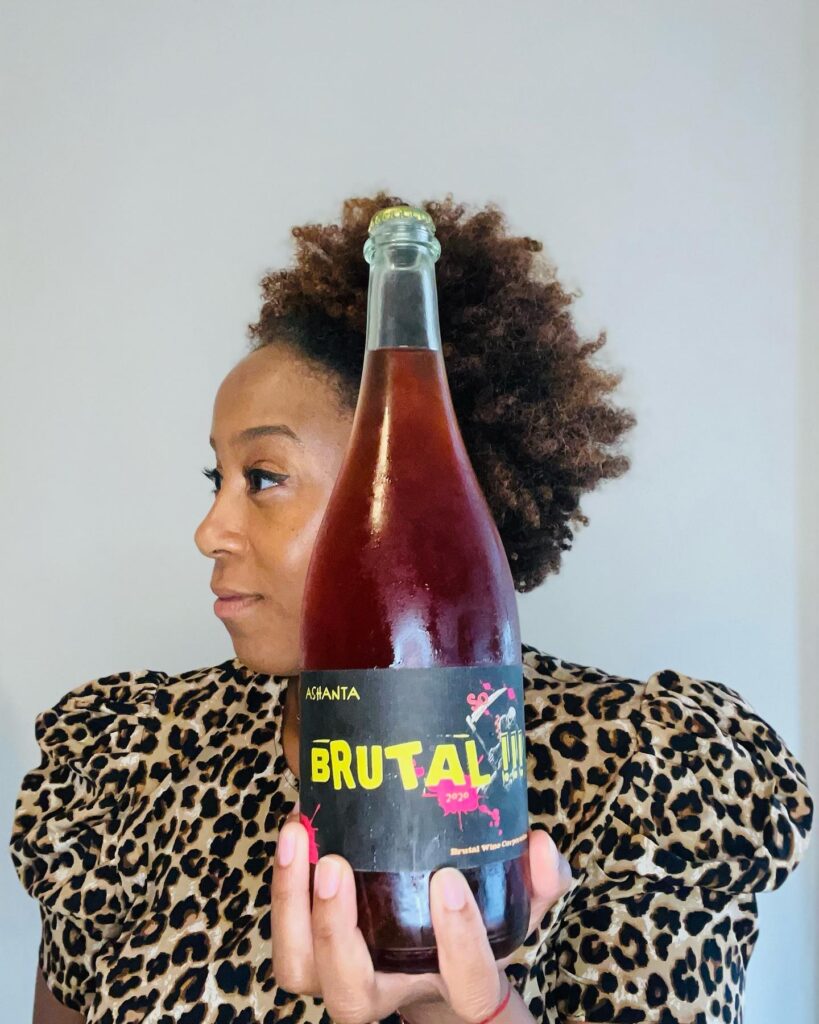 Source: Whitney's Insta
Tell me a little bit more about the wine scene in DC. How is it going at the moment? Is there anything exciting that is coming out in the next couple of months?
Domestique Wine is amazing, they are one of the best spots in DC to buy natural wines. There have been a number of restaurants that converted into bottle shops during the pandemic that focus on natural wines. It's been awesome to have so many options in the city.
When I think of the community as a whole, it's the connectedness that comes to my mind. The last year was not easy and even though we've been at home, through social media I have met more & more like-minded people in DC. I host a bi-weekly tasting group over zoom. The group has varying levels of wine knowledge, I love that we're diverse in our experience but also our backgrounds (where each of us is from, our jobs, working in wine/not working in wine). We're a bit all over the place, but what brought us together is our shared love and interest in wine and such has been good to just connect with folks that way.
What is it like to be a woman in the industry, especially in 2021? What would you suggest to someone who's new to the industry? What can we do better as the industry, as women to include more diverse voices?
I became certified in 2012 and I spent two and a half years trying to break into the industry and getting a wine marketing job. It was difficult, lots of interviews or lots of "we're just waiting for the offer to come together." It is common for anyone that is transitioning to a new field to have a ton of 'no's' before they get a 'yes'. However, keep in mind I had years of experience in marketing and was targeting wine marketing roles – but couldn't get a break. So I would say 10 years ago it was very difficult. Now it just seems so much easier, I've seen a number of people who have made the pivot into wine by leveraging their wine blog or other social media channel.
I am very lucky and late enough in my career to say "okay, I'm just gonna do it my way!" I'm going to say what I need, going to speak my mind and I don't care.
Which is a good thing because you find your tribe that way. So if I can give a piece of advice to anyone, it's this – just try it! Write that blog, jump on Clubhouse, post videos, and so on. Chime in, start an Instagram, connect with people and that way you're able to put yourself first. Find your voice and find a way to connect.
Any exciting experiences this year with wines? Anything you are looking forward to professionally?
There are three California wine projects that I'm stoked about! Terah Wine Co., The Two Eighty Project from Chris Renfro, and VDC California from Adam Vourvoulis.
Professionally, I am looking forward to seeing where pet-nat*, and skin-fermented wines* go and I'm just curious to see what form they will take on the shelves, especially when it comes to conventional winemaking or bigger producers. For many people both styles are directly be associated with natural wine and have been the "gateway wines" to introducing mainstream drinkers into minimal intervention winemakingFurthermore, natural wine is becoming mainstream in the United States, it's no longer a style of wine seen at wine shops or wine lists in major cities. It's now more widely accessible, which is great. The challenge for the natural wine community and particularly the producers is how to continue to differentiate the winemaking style from 'clean wine' which is a dubious wine marketing claim that is geared toward a wellness obsessed consumer. The term has gotten a ton of attention as it attempts to champion transparency in wine, however, the brands that use the phrase are not truly aligned with the farming and winemaking philosophy of natural wine. Thus it has created further confusion for consumers.
And again, this goes back to my earlier point in our conversation about consumers being conscious about where things come from and who made them.
I am also looking forward to finding and maintaining inspiration so I can continue to feel excited about wine education and talking to people about it. Because sometimes I think we put so much reverse pressure on ourselves that we take the joy away, so I'm trying to be better and mindful of that.
Here are some of Whitney's faves:
Written by Rebeka Győrfi. Find her most recent articles here!
All images are owned by Whitney Pope, doodles by Lili Rebeka Tóth.
*pet-nat: Pét-nat is an abbreviation for "pétillant naturel"—a French term that roughly translates to "naturally sparkling."
*skin – ​​Orange wine, also known as skin-contact white wine, skin-fermented white wine, or amber wine, is a type of wine made from white wine grapes where the grape skins are not removed, as in typical white wine production, and stay in contact with the juice for days or even months.