The Pleasure Society is an online platform where sex-positivity, creativity and their intersections are upheld and celebrated.
They give artists who work on topics of eroticism, sexuality, body positivity and pleasure a stage and a chance to introduce themselves and their works to a curated crowd that is the Pleasure Society's following. Their mission also includes opening up the conversation about sexuality without stigmatising any aspect of it and creating a safe space for people to explore their wants, needs and identities.
If you happen to be in the neighbourhood, you can find them at live events in Amsterdam. They host their own Pleasure Poetry Slam night, their booth at Come Alive, or you can even hear them on air, with their frequent show on Echobox, where they host the Radio Pleasure Society and talk about ageless sex, intimacy and knowing your own pleasure. You can even keep a piece of them with you, as they have their own card game called the Pleasure Cards – a game that prompts its players to explore their own selves intimately and helps them communicate it to their partner or partners.
I actually became aware of the Pleasure Society through being a volunteer designer for them. They were looking for a digital wizard, and I was looking for something fun to do, and thus, our collaboration was born. It was, and still is, inspiring to work with such a dedicated, hard-working and yet free-spirited and amazingly kind person that is Shari Klein, the founder. I had the pleasure of sitting down for a chat with her and asking all about her business.
Could you introduce yourself and The Pleasure Society, please?
I'm Shari, I'm 33 years old, and I'm Dutch. I was born in the Netherlands, but I'm half American, as my mom is American and my dad is Dutch. I am the founder of the Pleasure Society. I originally founded it about two years ago and launched it about a year and a half ago.
I started it because I've always been interested in topics about sexuality, intimacy and pleasure. About two years ago, in the middle of the pandemic, I got the opportunity to do a little radio show in the Netherlands. The show itself was an erotic radio show and I shared erotic poems and stories that I've been collecting throughout the years. It was a hit, everyone loved it and it was really fun to do as well. It aired at like 10:30 at night when people were already getting into bed, and it was fun to know that people were listening to these sexy stories on the radio at that time of the day.
So many people around me asked me, "Shari, why don't you write stories yourself?", and even though I had my impostor syndrome tell me I couldn't, I still ended up doing it. It was such a revelation since it was very empowering for me, and I did not expect that to happen at all. It was also interesting for me to write my erotic fantasies, thoughts and experiences I had and share them with the world –  even though it was also scary.
That was the beginning of the Pleasure Society. When I was sharing these poems I had this feeling that this is my calling.
I wanted – and still do – to break the taboos around these subjects because it's fun to learn about them, speak about them, and find out why it's still difficult to talk about them. Why can't it just be as normal as talking about coffee?
I quit my job a couple of months later, put all my ideas on paper and started gathering people around me to work on the Pleasure Society with. The revelation of how much I enjoy writing simultaneously came with the realisation that I needed a fresh start. It was at the time of the first large wave of COVID, and I think it made a lot of people realise new things about themselves and their lives. My contract also wasn't extended by my employer at the time, so I got this feeling that it was meant to be for me to put all my focus on the Pleasure Society – even though it didn't even have its name back then.
Now I run a platform about sexuality, I also do coaching on the side and I try to surround myself with sex-positive people as much as I can. I have a background in marketing and partnership management as well as some ties in creative industries, so I had everything at hand to start something creative and artistic – that's the main focus of what I'm trying to do with the Pleasure Society.
Almost right in the beginning you had Isabelle Juursema, a talented designer and art director join your team. She was responsible for developing the look and feel of the Pleasure Society. How was it for you to include someone else in your project so early on?
It was amazing, actually, as Isabelle also had projects revolving around pleasure and eroticism. We hit it off instantly, we understood each other, and we had the same vision, which made the process very smooth. She was able to translate all of my ideas into something visual. She designed the logo, came up with a lot of concepts and took on the lion's share of the work. It was amazing to see how the Pleasure Society came to life in front of our eyes.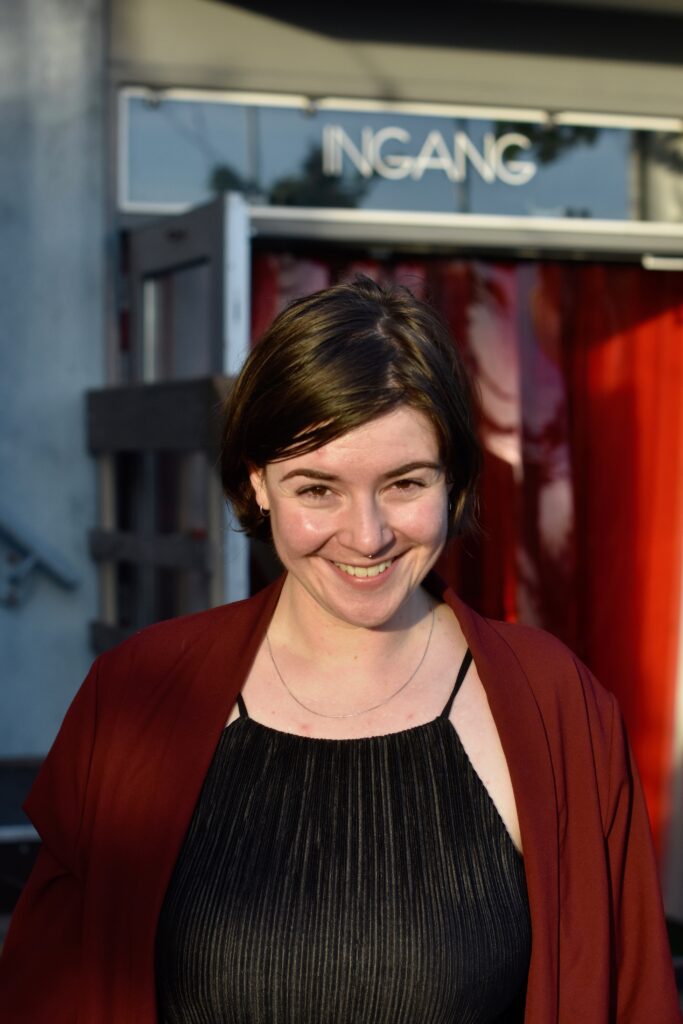 Shari Klein and Isabelle Juursema.
How many people did you have on your team?
I started actively looking for people about two years ago, in October of 2020, to help me design my website. A friend, who is a project manager, saw my ad for it on LinkedIn and reached out to me. We decided to meet, grabbed a drink, ordered some pizza, and I told him everything that I had at that moment about my business. That same evening he made several calls to people in his network who could help me jumpstart the Pleasure Society. They ended up building my website, supervising the art process, and even introducing me to another person who did illustrations for the site. They helped a great deal in starting this project with me, they were excited and personally invested in it. However, with the exception of Isabelle, it didn't mean they would become my actual, long-term team.
How has the journey been so far for the Pleasure Society?
We launched in late January of 2021, and at this point, I can't even remember what direction I had planned back then for the organisation to go in, but reality definitely rerouted us to another path. I had ideas of offering some type of membership to our followers – which is technically still a possibility, but it's just not happening yet. Our Pleasure Cards started out as a simple idea as well, and it outgrew itself into something much bigger than I initially planned it to be.
If you come up with a plan of what you want your business to be, and then only allow yourself to strictly stick to it, you're going to miss out on a lot of opportunities.
I just floated along with the opportunities that came, and I'm happy with the results.
So what are your plans for the future of the Pleasure Society? You know, regardless of where the future might take you.
I would love to facilitate an actual, physical place where educational programs and open, free conversations could be held without judgement or borders. I would want it to be a place where you could just come in, grab a coffee, and explore whatever you want to explore, comfortably. We would have workshops, and one-on-one sessions with a sex or intimacy coach, and I would also open this place to sex workers to have a safe environment for them to gather and share their experiences. Kind of unionising them, if you will. What I do now and what I would want in the future is open and welcoming for all that's the number one priority.
The Pleasure Society doesn't cater to any specific gender, sex or even specific experiences, but we do keep in mind that experiences differ, so we try to cover a spectrum as wide as possible.
I also still very much want to start an actual foundation that could cater to educational purposes, but I would definitely collaborate with other partners on that. I would focus heavily on developing an educational program and providing help to former sex workers to help them change career paths and advance their studies. Maybe have them become a coach at the Pleasure Society.
As we speak, I'm part of this business program called The Break. It's an amazing opportunity for women entrepreneurs in the EU to receive a scholarship and be flown to one of many scenic Spanish locations – I'm in the Canary Islands at the moment. During the program, they can meet other, like-minded people, participate in group activities, and one-on-one coaching sessions regarding their own businesses and advance their entrepreneurship. They teach branding, strategic design for businesses, building communities and so much more.
They are also already accepting applications for their 2023 program, so I recommend everyone to go and check them out and don't be afraid to apply, as they are even expanding the number of applicants they'll choose. My program this year accepted 280 women, next year they are planning to up that number to 700 women. So, jump on it!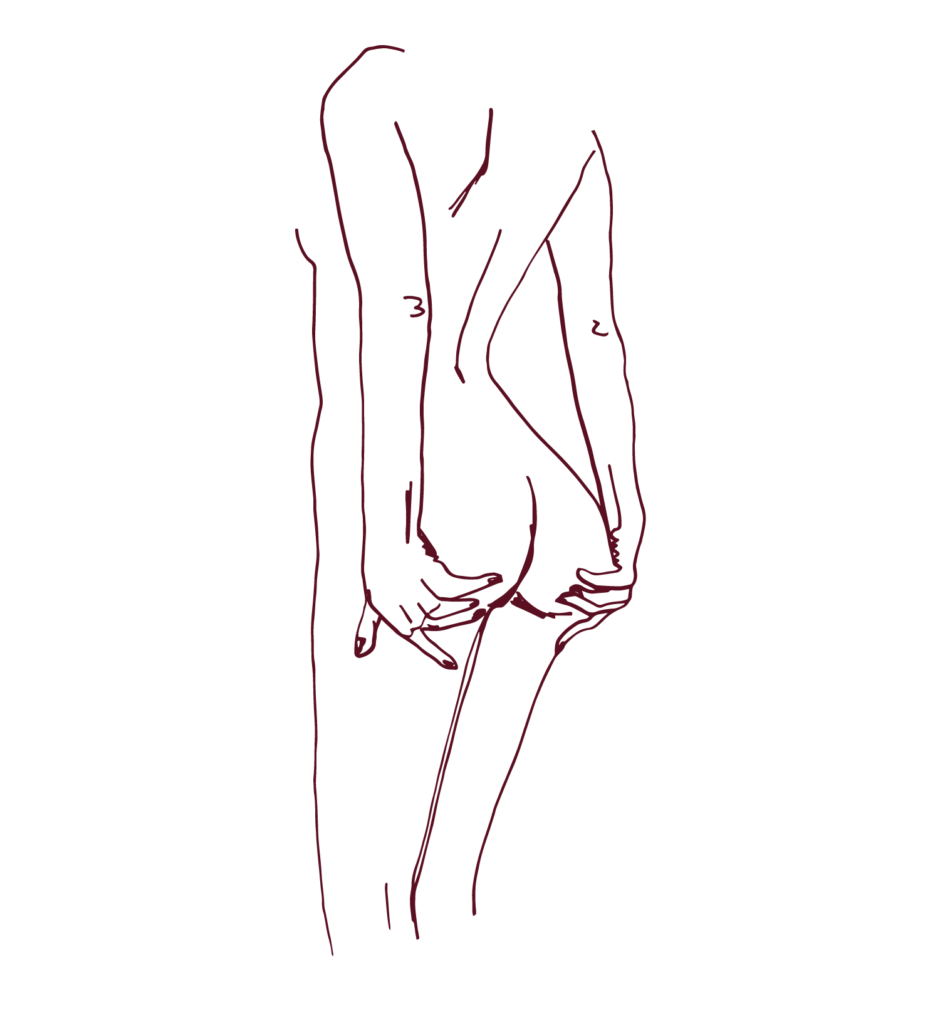 Illustrations from the Pleasure Society website, designed by Emmy-Koos Meijer.
The Pleasure Society – as of today – is a non-profit. Do you intend to keep it that way?
Not necessarily. I would like the Pleasure Society to be an organisation with many aspects, multiple goals and areas where we act, so eventually, I would like to set up a foundation for it. It would allow us to provide more to others, and as such, we would have a non-profit part that would be financed by our for-profit parts. Currently, our revenue sources vary, but my ambition is to make it a fully self-sustaining business that can hold its own.
I appreciate the time you dedicated to me and to Lazy Women readers, thank you for sharing your story. Is there anything that you'd like to share with other female entrepreneurs around the world?
Unless you have a really good memory, write things down. Other than that, listen to your heart.
Staying authentic is the best thing you can do for yourself and for your prospective – or maybe even already operating – business.
If something is not true to you, it won't work as well, even if you try to force it. If that's the case, take a break, sit down, and think about what really matters for your entrepreneurship. Doesn't matter if you are a journalist, a chef, an online platform operator or you roast coffee beans, just stay true to who you are.
Written by Máté Verhás.
Máté is a Hungarian-born, non-binary artist, and designer. Apart from their commercial design jobs, Máté enjoys sci-fi and fantasy-themed design projects. When not creating, you'll most likely find them looking at cat videos or playing Stardew Valley.
Photo credits: Rowyda, Lex Thoonen, Emmy-Koos Meijer