Support Lazy Women by pledging support for our crowdfunding campaign, launching on the 30th of September.
---
"Lover of bass music, singer of my soul."

That's artist and DJ Sheba Q's bio on Mixcloud, and I had the pleasure of learning a little more about the woman behind the music, Margaret Rwegasira.
Hailing from London, Rwegasira collects all kinds of music, especially Jungle, a lo-fi drum & bass that formed in the UK in the early '90s. Of all the musical genres I've written about over the years, this was my first encounter with Jungle. I was quickly swept away by the steady, pulsating breakbeats that hinge on momentous loops and percussive sampling.
When finding her Jungle DJ alias, Sheba Q tugged on her familial roots for inspiration.
"It's an interesting, mystical, potentially real story," she said with a sneaky smile. Her mother's maiden name is Kalemera, a Greek word meaning "good morning". As the story goes, someone sailed from Greece, arrived in Egypt, traveled down the Nile towards Tanzania – where her family is from – and on the way passed through Ethiopia, where the Queen of Sheba lived, royalty to whom Sheba Q has ancestral ties. That being said, Rwegasira does not subscribe to the infamy associated with the royalty today and unearned hierarchy.
Sheba Q has not only grit but guts. When she first started taking music seriously, she would find labels and promoters on Instagram and sift through their follow lists, sending DMs of her mixes to clubs all across the city as well as invitations to her event Jam in the Attic. "This was back when I was very, very hungry," said Sheba Q.
Down the networking rabbit hole she'd go, foraging for gigs, mixes, and contacts as artistic nutrients.
After DJing on radio stations and opening for larger acts, the pandemic hit but did not break her stride. A key component to her drive and success – particularly with her songwriting – is her notebook:
"I always carry a notebook with me, and whatever words might come to mind, I just write them down…And later match it to a melody when I'm in the studio creating"
This preparedness may be a symptom of her day job as a math teacher. When it comes to music and math, Sheba Q said, "Not only are they similar, I'd say the same." Where Jungle rearranges samples and syncopates rhythm, math manipulates numbers. "All of that is patterns and sequences. It's just a different language or building blocks to express something."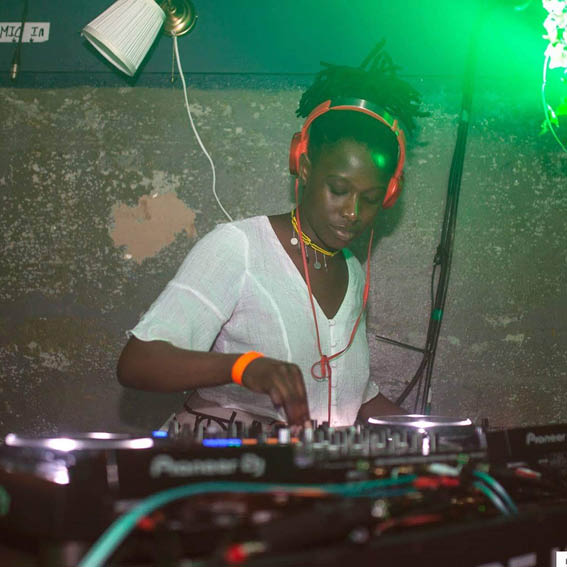 Sheba Q. Photo credits: House of Hi-Fi
She sees math education and music's likeness in conjunction with performance as well. "Teaching is a performance, really. It's taking something that is otherwise really abstract and weird and making it interesting. I think it's something I was always going to do in some capacity," said Sheba Q. Her musical destiny is constantly being realized, including by the public eye in 2021, when she was nominated Best Breakthrough DJ in DJ Mag's Best of British Awards.
Before gaining recognition or playing at massive music festivals, she always had an interest in using language to shrewdly articulate a feeling. Her earliest memories are of herself singing whilst washing the dishes, with her mp3 playing in her ears:
"It's always been, first and foremost, quite self-soothing. And then, as time has gone on, I thought, why not share that self-soothing experience, that kind of flair, with other people?"
Then again, this was grown-up Sheba Q speaking, not schoolgirl Margaret Rwegasira. She recalled memories of auditioning for solos in her choir from a young age. "I would put myself forward to do them because I enjoyed singing and Mrs Waite really encouraged us to step into our voice and confidence. But I remember having pools of cold sweat under my armpits, especially after I was done. And it's so weird because I remember thinking to myself, this has a very intense effect on my body, but I know I still like it," she said.
Teaching, performing, and simply growing have proven to her that nerves are not always negative. It's not something she has to push through, but fuel she can positively channel into her body and mind. "It makes it a little bit thrilling," she added. No two performances will be the same, just as infinite digits can be strung together or endless possibilities exist on a stage.
It was clear to Sheba Q early on that music was her calling, but building a community within the Jungle and DJ sphere as a Black woman presented challenges along the way. She didn't want to be "good for a girl" or a "token Black DJ," an isolating experience she endured at the beginning of her career.
"You can't help but ignore how politicized it is just me being there, despite the fact that I just want to enjoy the music," she said, embodying how the personal is often political.

"That has formed part of the process of finding my own voice, my own space, my own audience, my own community, to the point where it's definitely not as daunting now. I've been taking it a step further in terms of wanting the scene to be more normal, i.e. more inclusive, and doing what I can to incite thought and change".
"Inclusive" is a characteristic that my unseasoned Jungle ears picked up on – its affable approach to busting down the barrier between listener and musician creates immediate community. "Sometimes those conversations can be quite anxiety-inducing," she said, "but at least I'm feeling more empowered in my voice as it's something that should be important to us all."
Her voice, literally and figuratively, is vital to her identity as a musician.
Sheba Q pinpointed her core value as "having something to say;" not what someone thinks you should say, and not necessarily something profound or eloquent, but something you just have to say. She admires artists whose music you can instantly recognize, "Because it means they've taken time to really understand what they're inspired by and make their own sound," she said. The integrity of Sheba Q's music lies in her honesty and openness, her rejection of holding back or conforming to a standard. She aims to take herself seriously enough that she values her work and what she shares, but not so seriously that she loses sight of all the fun it can be.
Sheba Q has a balanced sense of play in her life that pairs well with her music. Like Jungle, her calm and cool demeanor is complemented by an impetus for creation. She has visions and goals to extend her creative tentacles even further and though she's not too worried about what exactly is happening next, if I were to guess, I'd say more times tables and turntables on bigger planes are on her horizon.
---
You can catch Sheba Q live on the 23rd of September in Budapest, in Gólya, at MMN's party. Get your tickets before it's too late!
Listen to Sheba Q's music on Soundcloud.
Written by Lily Guthrie.
Lily is a writer from Atlanta, GA who graduated from the Grady College of Journalism at the University of Georgia in 2021. After two years of living in Manhattan, she recently moved to a tangerine-colored house in Greenpoint, Brooklyn. Lily enjoys blue skies, dirty martinis, and good company with whom to share them.