Production Coordinator for Dua Lipa & Lana Del Rey
With 'The Lazy Women of the Music Industry' interview series, my goal is to showcase women who are the opposite of lazy – if we think of the word in its pejorative meaning – through discussing their relationships to laziness and productivity. These ladies are hard-working, ambitious, passionate about what they do, and they are crushing it in the industry that I'm also in – music.
I vividly remember meeting Judit for the first time during the summer of 2018, when I was working as a promoter rep for Sziget Festival – and was looking after Dua Lipa on this specific day.
A confident and energetic brunette woman stormed out from terminal A at Budapest Airport, talking to someone on the phone, whilst giving instructions to about 27 people juggling massive flight cases. She quickly introduced herself to me and immediately asked if their bus had been on standby to take her crew to the festival site. It was only later on that I had a chance to properly speak to her and come to the conclusion that she's a badass woman, a perfectionist professional and an extremely kind and cheerful human being.
Q: When did you start your career in the music industry?
The first time I got close to the music industry was about 7 years ago. I worked in events and advertising before that. I actually managed to get into a well-known advertising agency when I was offered to be the right hand of the director of Akvarium Klub in Budapest, which was the 2nd biggest indoor venue following the arena [Papp László Budapest Sportaréna – Ed.]. That is what changed my traditional 'perfect job, perfect life' goal, although this path wasn't really in my plans, it intrigued me to see what I could take from this opportunity. 'Let's see how it goes' I thought. 
Akvarium Klub had several international and Hungarian bands performing (Lamb, Skindred, Glass Animals, Bonobo, Nils Frahm etc.) and I quickly discovered that I had a growing interest in the production side of a gig. So I asked my very experienced stage manager colleague, Gabor Bohm if I could shadow him in my spare time (my original job at the club had not much to do with that). He taught me the basics. 
I also took up temporary jobs every year during festival season and worked as a promoter representative on the biggest Hungarian festivals like Sziget, VOLT, Balaton Sound, Strand, Bp Essentials etc. which meant that I was the main operational contact for international bands when they came to Hungary to play – from the moment they arrived until they left the country. It is a really fun job, you get to work with all kinds of artists and their production teams, from the nicest folks in the industry to the most demanding ones at times. I certainly learned a lot about touring group dynamics, their travels, their schedule before, during and after a show. I loved it – it's crazy in the best way.
Later on, I decided to try my luck abroad. I got in touch with people who I worked with during these times and a few months later, I found myself selling audio recordings in arenas in Europe on my very first tour, with Simply Red. This was an additional service so we weren't really part of the big tour (meaning we had to take care of our own travel etc), but I had the chance to watch building an arena-size show and packing it up into several trucks within 24-hours, rolling it from country to country, day by day. This amazed me. Since then I was lucky to work with The Darkness guys for years, selling merch, doing wardrobe (so many catsuits!) and slowly climbing the ladder to become their tour assistant. 
In the last 3 years, I have been working on Dua Lipa's tours as a production coordinator (moving the whole touring party around the world, plus dealing with backstage and catering) and I have been doing the same for Lana Del Rey for about a year now.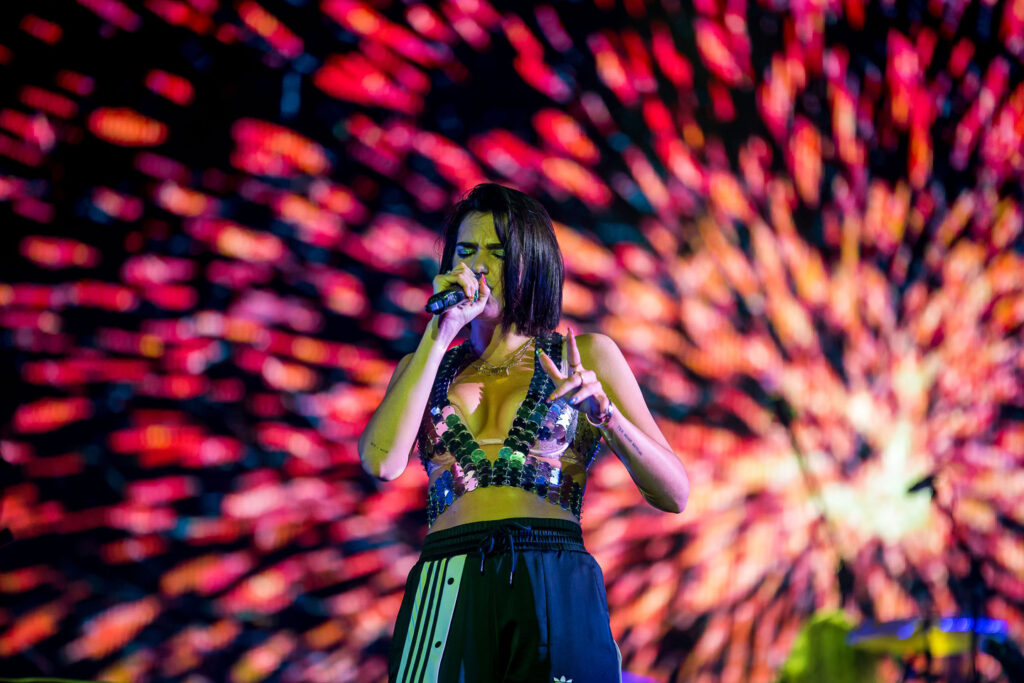 How do you define success?
That is an interesting question. A few years ago I probably would have said straight away that success is to get to the top – wherever that was, in the sense of being more productive, getting to higher and higher positions, achieving tangible goals and so on. But now I would rather say that it's more to do with managing a life where you feel fulfilled. Which I think is so rare, because it is hard to measure. We forget to find joy in our everyday life. I'm struggling with that too but am determined to change that.
What's the first thing that comes to mind when you hear the term 'lazy'? / Do you consider yourself a "lazy woman"?
Someone wandering around in life aimlessly.
I don't think that everyone needs to go out and save the world, but we should have goals to work towards and challenge ourselves. That is what gives me purpose at least. Of course, I have days when I lack motivation or just would like to be tucked up in bed and watch Netflix all day. I think that's absolutely acceptable from time to time though.
Have you ever been called lazy? If so, in what context?
No, I don't think I have. As I mentioned I do catch myself in lazy moments, feeling unmotivated or just not in the mood for anything at all. And I do get frustrated because of that.
What/who do you turn to when you are lacking motivation/inspiration?
One thing that works really well for me is to tire my body out (mainly by running and practising power yoga). A good sweat does wonders to my mood.
My other go-to is watching biographies of inspiring people. I love that because they remind me that every life has its ups and downs, but what makes them different is how they use their lows and build from it. And if we talk about work context, I go and see a gig or watch live gig videos (the only option we have left during a pandemic), that puts me back to the right headspace and reminds me why I love what I do.
What do you do to switch off/relax?
I try to be away from my phone for a few hours, so I'm not constantly reachable and I'm not under the influence of social media. Especially now during lockdown, when I have too much time for the latter (given that our industry has completely shut down).
Going for day trips, walks in nature, hiking and doing sports are also my favourite ways to recharge. I also love driving, because that makes me focused (except driving in London, that stresses me out). And lastly, of course, listening to music.
What would your advice be to your younger self/other women who are struggling with the feeling they constantly have to be productive?
Don't lose sight of what recharges you, what you enjoy doing (other than work) and remind yourself it's OK to slow down.