There was a lot of bad news for women in 2022, but that hasn't stopped them from rising up and protesting for their rights. We have highlighted 10 movements from the past year where women were at the front lines.
Women have been rising up.
From the United States to Afghanistan, women have once again had to endure their rights being stripped away from them by men holding high office, who have been imposing their world views on what is still seen as 'The Second Sex' – despite 74 years of activism since Simone de Beauvoir's book was first published.
And though it is exhausting having to fight for rights again and again, 2022 was another year in which women-led protests and made their voices heard – not only for their individual fights but in solidarity with movements in other countries. For example, around the world, women marched in protest against the Iranian regime and even joined Iranian women in cutting their hair as a sign of dissent.
"There is no force equal to a woman determined to rise," W.E.B Du Bois, American sociologist and civil-rights activist, rightly said.
According to Harvard Kennedy School political scientist Erica Chenoweth, who studied revolutionary movements from 1945 to 2014, women's participation is highly correlated to the success of a campaign. Movements with women on the frontlines tend to be more resilient and creative, according to Chenoweth – which explains why authoritarian leaders typically target women's rights and try to confine them to the home.
But when women rise up, there is more diversity in campaigns, and the methods are typically less violent. In the end, women's political mobilisation not only changed gender norms but also can help move societies towards more general equality.
When women lead movements, they also attract more support from other women, which means that they typically have broader support.
Last year, there were numerous movements and protests across the world led by women, despite the threat of violence and persecution.
Here, we highlight ten that have made the headlines.
Iran
Since the death of 22-year-old Mahsa Amini in September of 2022, there have been nationwide protests in Iran. Amini was detained by the morality police in Tehran for "inappropriate attire" – which meant that her hijab was not covering her hair fully. While the authorities have claimed that she died from a heart attack, her family holds the police responsible for her death.
Demonstrations began during Amini's funeral in her hometown of Saqqez in the province of Kurdistan and then spread nationwide. Protests were led by women sounding the slogan "Woman, Life, Freedom".
According to the US-based Human Rights Activists News Agency, at least 522 people have been killed during the protests.
Despite the violent crackdown of the regime, including through mass detentions and a number of executions, protests are continuing, putting pressure on the government.
Afghanistan
More than a year after the Taliban took power in Afghanistan, most of the hard-won rights of women have already been rolled back. Women have been forced out of school, banned from working for NGOs and forced to wear the headscarf.
However, the women of Afghanistan have been at the forefront of resistance towards oppression. They have held protests demanding their rights, despite facing beatings and arrests.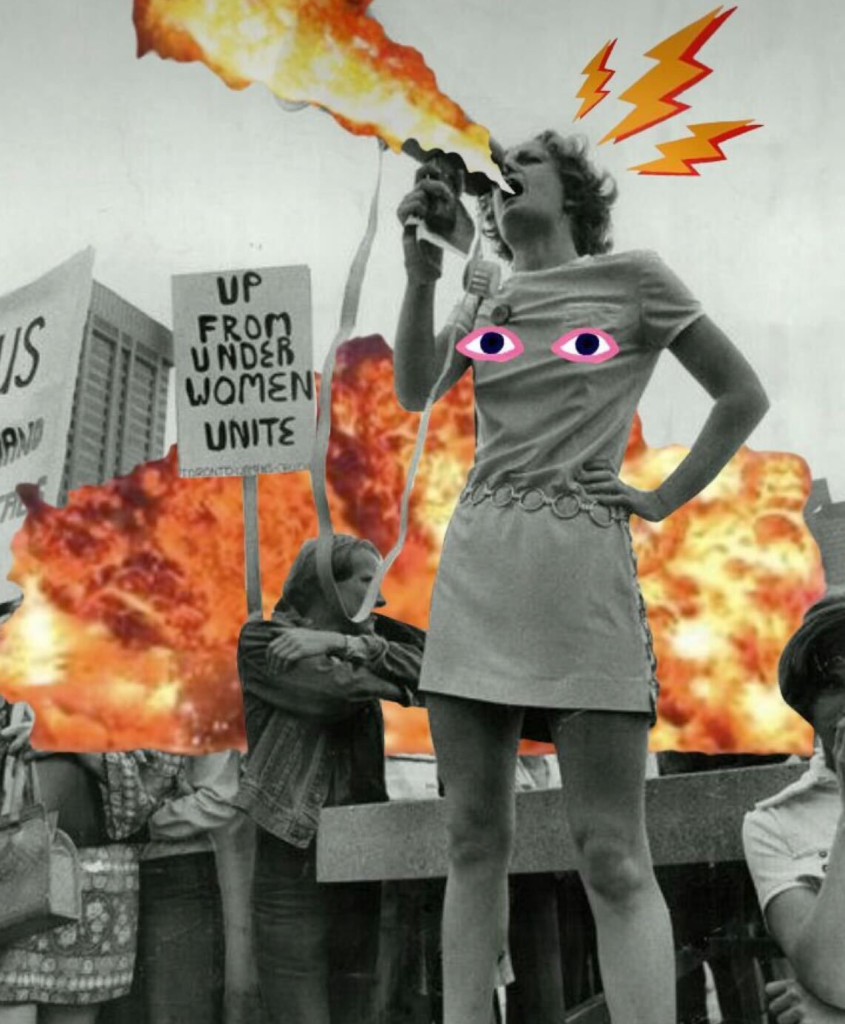 Collage from original photo, Author unknown – Jackie Henderson addresses a crowd of 500 at a Women's Liberation rally at Nathan Phillips Square. Photographer: Reg. Innell, August 26, 1970
The United States
On 24 June 2022, the US Supreme Court overturned Roe v. Wade, the landmark ruling that made access to abortion a federal right. This decision has allowed individual states to decide their future regarding access to safe and legal abortions. As a result, many states have banned abortion, once again interfering with individuals' rights to bodily autonomy. According to the Guttmacher Institute, 21 states have already banned or restricted abortion access, with another three states expected to do so soon.
Thousands took to the streets to protest across the country in cities including New York and Los Angeles. Although there are limits to what the president can do, Joe Biden signed an executive order to safeguard access to abortion and contraception, by making it easier for women to travel between states to access an abortion.
Ukraine
In Ukraine, women had to battle a foreign power rather than their own government last year. After Russia's invasion in February, many women volunteered to fight. Officials claim that nearly one-fifth of Ukraine's armed forces are women. Although there are accounts of sexism among the fighters, with some women recounting how they have been told to go back home, they are continuing to fight for their country. Some expect women's contribution to the resistance against Russia's invading forces to alter how they will be viewed long-term in Ukrainian society.
Turkey
In 2022, a well-known campaign group in Turkey was closed and the top administrative court upheld president Recept Tayyip Erdogan's decision to pull out of the Istanbul Convention on violence against women. This has led to several protests across the country as women spoke out against femicide.
At the start of the year, they also led protests against the rising cost of living. Women marched on the streets, going out with their pots and pans.
UK
The cost of living crisis in the UK, driven by soaring inflation, has put the spotlight on gender inequalities within the economic system that has been under a conservative government for the last 13 years.
The increasing cost of childcare, which was already high before the cost of living crisis, has been disadvantageous to women. The March of the Mummies protests, held in October, demanding government reform on childcare, parental leave and flexible working.
Poland
Poland introduced one of the most restrictive abortion laws in Europe two years ago, and women have been taking to the streets ever since. Last January, protests flared up across the country after the death of a woman who was refused an abortion. She was pregnant with twins when one of the foetuses' heartbeat stopped and doctors refused the abortion.
In November, hundreds gathered outside the leader of the country's Law and Justice party, who blamed women for the country's low birth rate because "they drink too much alcohol".
Ecuador
Hundreds of women in Ecuador marched against femicide in October, following the murder of lawyer Maria Belen Bernal the previous month.
The government announced the creation of a gender-violence unit in each state agency and promised to increase the budget to enforce the law for the eradication of violence against women.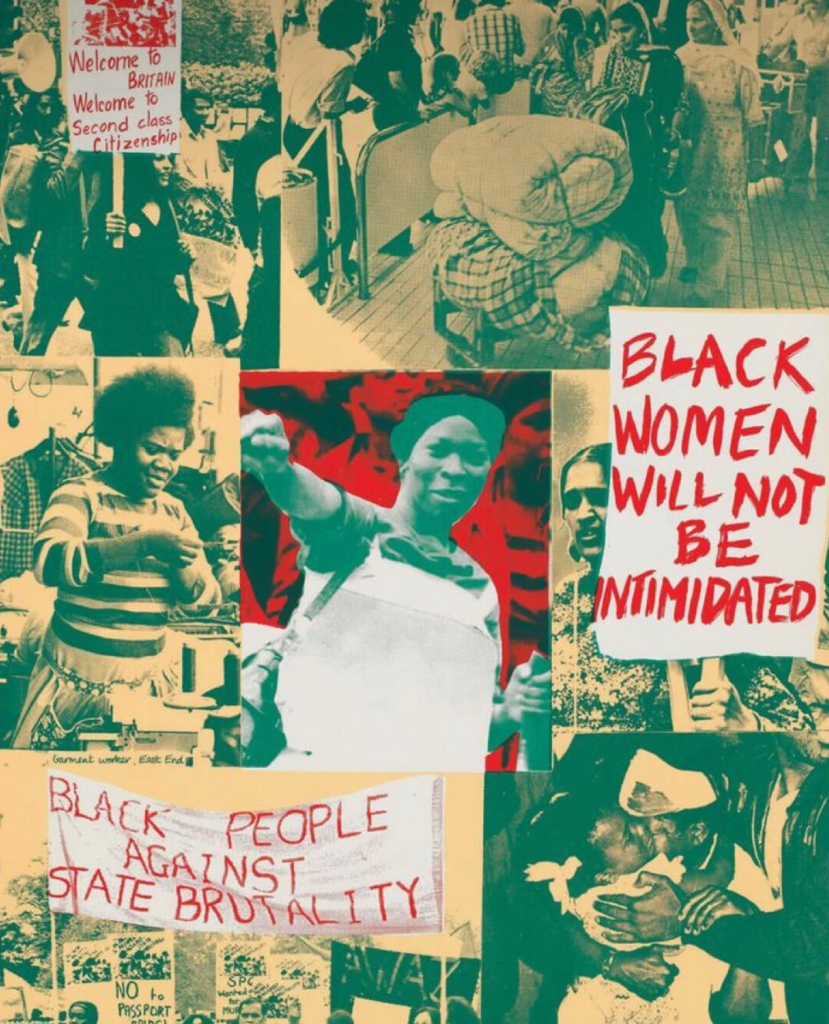 "Black Women Will Not Be Intimidated", 1980, See Red Women's Workshop
India
Muslim women have been protesting for the right to keep wearing the headscarf in India. Protests started in the southwestern Indian state of Karnataka by a group of girls who were denied entry into their classroom for wearing the hijab. The movement has since spread to other cities. The protesters challenged the ban in court claiming religious discrimination. The Indian Supreme Court failed to deliver a verdict in October, as two judges held opposing views and referred the case to the chief justice.
Hungary
In September, as new abortion rules in Hungary took effect, thousands of women took to the streets. The amendment requires women to listen to the heartbeat of the foetus before proceeding with the abortion.
The importance of resistance
Although most of these fights are still ongoing, there were other movements that made progress in 2022. For example, Colombia decriminalised abortion, Spain became the first European country to offer paid leave for women who suffer from painful periods, Mexico and Argentina improved access to abortion, and Ukraine ratified the Istanbul Convention. These successes show the importance of resistance.
Democracies improve when women gain more rights, and their participation in public life increases. Therefore, it is no surprise that women's rights are always a target of authoritarian regimes. Many exert control over women's bodily autonomy, remove them from the public sphere by taking away access to things like jobs, and reinforce conservative gender roles. It is all about creating or perpetuating a male-dominated society with a clear power hierarchy.
But when women fight for their rights in the face of government crackdowns they also tend to be more resilient, according to Chenoweth and her colleague Dr Zoe Marks. One reason is that cracking down on someone's grandmother can elicit more sympathy from those that are standing on the sidelines.
In a Harvard Kennedy School podcast, Marks explained: "…you not only have this higher likelihood of success because women are participating in large numbers, but women's participation leads to larger movements, partly because you've included an extra 50% of your population as opposed to biting with one hand behind your back. But that increased diversity and representativeness carries forward into tactical innovation."
Although there are a lot of fights that still need to be won around the world, the fact that women from all these different countries continue to fight can help inspire others as well to stand up for their rights.
Written by Selin Bucak.
Selin Bucak is a Turkish freelance journalist based in Paris. Previously based in London, she writes on a variety of topics, from gender inequality and human rights issues to finance and economics. She also runs a weekly newsletter answering women's questions on money, finance and economics called the Rebalancing Act.
Artwork by Dinara Satbayeva.
Photo credits:
Iran: Iranian woman cutting hair / Photo: Yasin Akgul / Getty Images
Iran: People dancing around fire in Iran /Photo: Unknown / Instagram / Twitter
Afghanistan: Afghan girls attend a class in a school in Kandahar in 2021 / Photo: Bulent Kilic / Getty Images)
Ukraine: Nastya saving dogs from Irpin / Photo: Christopher Occhicone / Instagram
Poland: A group of women's rights activists with a sign reading "Abortion Without Borders" protesting Poland's strict anti-abortion law, outside the top constitutional court, in Warsaw, Poland, 2022 / Photo: Czarek Sokolowski
Ecuador: People gather outside the headquarters of Ecuador's National Police to protest the death of Maria Belen Bernal, whose police officer husband, according to the interior minister, is a suspect in the death, in Quito, Ecuador, 2022 / Photo: REUTERS/Karen Toro
Iran: Newsha Tavakolian / Instagram