"Letting your mind have some mental and physical space is not laziness, it's self-care" –

Viki Lábas

, lead singer of Margaret Island
With The Lazy Women of the Music Industry interview series, my goal is to showcase women who are the opposite of lazy – if we think of the word in its pejorative meaning – through discussing their relationships to laziness and productivity. These ladies are hard-working, ambitious, passionate about what they do, and they are crushing it in the industry that I'm also working in – music.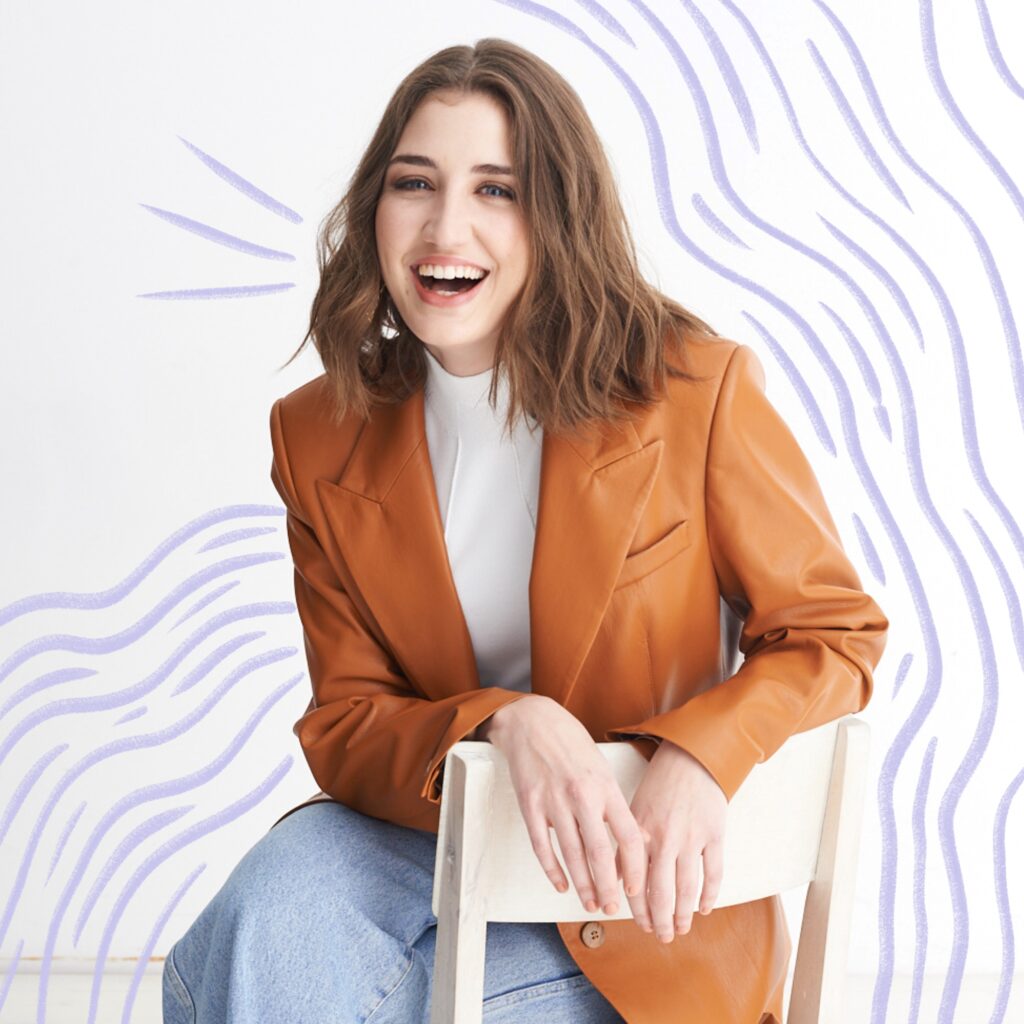 Viki Lábas, photo credits: Ádám Földi, doodles: @letdorabe
Imagine a tornado – powerful, all-consuming, boundless – but instead of creating destruction, it makes everything it comes into contact with better. That's Viki.
As the lead singer of acclaimed Budapest-based band, Margaret Island – who have rapidly rose to fame around 2015 with their catchy pop-fused melodies and poetic lyrics – Viki accumulated a sizable following on social media, which is of no surprise.
The positive energy she radiates is addictive – when she's standing on stage, singing her heart out to thousands of people, and equally when you have a simple 2-minute conversation with her about literally anything. She's definitely a force to be reckoned with, and I'm overjoyed that I get to call her my friend.
When did you start your career in the music industry?
I played classical clarinet for 12 years, then, during my wild high school years, my classmates and I founded a rock band named after the school – very imaginative, I know, haha.
But the first time I really got close to the music industry was about 7 years ago, when I decided to move to Budapest from my hometown, Fonyód, near Lake Balaton. I started taking singing lessons, and soon after I met Bálint and Kristóf at a music competition, where all three of us received awards in our respective categories. We hit it off instantly, and shortly after we established our band that we play with to this day, called Margaret Island.
In what felt like a heartbeat, we found ourselves on the stages of all the major local festivals, released 3 studio and 1 live albums and started touring continuously.
In your personal experience, what is it like to be a woman working in this industry? Do you feel there are any challenges that you experience differently from your male colleagues?
My industry is very male-orientated. I repeatedly run into ego problems – in my personal experience, men sometimes think that only they can have good or original ideas.
Specifically, in a studio environment; there were instances where my male colleagues didn't even want to hear my ideas or suggestions, they pretended as if I wasn't even there, they literally just wanted to use my voice for their song.
Fortunately, this is mostly in relation to other external projects I work on. Within our own band and wider team, I don't feel this male dominance, and for this, I am very grateful.
I've also noticed that my male colleagues can often be (or at least they're good at pretending that they are) much more relaxed in stressful situations than we women are.
I'm impatient, I feel like I always have to be two steps ahead of everybody else, and that I constantly have to bring my absolute best to the table – in short, I feel like I always have to be perfect.
And I don't want to go into stereotypes, but there are quite a few male performers I've come across throughout my career who believe they should just be adored because they are who they are, and they aren't willing to put the work in when it comes to preparation, production and performance.
What's the first thing that comes to mind when you hear the term 'lazy'? Does the word have a negative connotation to you?
There is one sentence that instantly comes to mind: only lazy people get bored. Which is why during my 20s I wanted to make sure I never got bored or got called a lazy person, so I became obsessed with overworking, especially when it came to making music and being an active member of the Hungarian music industry. Subsequently, I realised that I don't pay enough (or any) attention to my mental and physical health, let alone my soul. I decided to try to change that and started dedicating more time to looking after myself, but I've still got a long way to go until I reach a healthy middle ground between working hard and burning out.
I now know that I have to train myself to be lazy sometimes.
Laziness doesn't necessarily have to mean doing nothing – it can also mean going for long walks, slowing down a little, and overall just taking care of myself.
What/who do you turn to when you are lacking motivation or inspiration?
I'm still learning how I can handle these situations. I try to immerse myself in culture; visit museums, watch theater/dance performances, go and see new emerging bands play live – basically all the things I can't do these days because of the neverending lockdowns…
Which leaves me with drinking yogi tea, reading, learning a new language, doing yoga and taking online courses. Long walks in nature, going out to feed deer in a nearby park, meeting friends, learning something completely different and new – these are great tools too, that are always at your disposal. I also often turn to biographies of my heroes for inspiration.
What do you do to relax?
Tricky question! I just don't know why this is so hard for me. I really love reading, but while I read I always get flooded with new ideas, so I always have to have pen and paper nearby so I can write things down as and when they come up.
I also try to meditate. It can be a yoga nidra, or a sleep meditation – sometimes it works, but honestly more often than not it doesn't. I can't get my brain to switch off most of the time.
Do you have any female role models in the music industry who have inspired you?
Yes, many. Throughout my entire life, I have always looked up to somebody: Janis Joplin, Pink, Avril Lavigne, Florence Welch, Katy Perry, Billie Eilish, Dua Lipa, Halsey, Miley Cyrus – just to mention a few.
I grew up listening to them – they've had a huge influence on me and how I make my own music. Plus their work ethic inspires me tremendously.
What would your advice be to your younger self/other women who are struggling with the feeling they constantly have to be productive?
Stay healthy, don't eat too much junk food, I mean it! Take care of yourself (if you're not feeling okay, that will affect everyone else around you too).
Keep doing what you do and don't be so tough on yourself.
Take care of nature and animals. Surround yourself with kind and positive people who fill you up with good energy.
Don't give too much of your attention to boys. Be passionate. Your dreams will come true – keep going. Try to sleep more. Overthinking is a waste of time.
Written by Napsugár Bardócz. For her latest articles, click here!